Case study eCommerce: Diamante Wear
Diamante Wear shop is the sole producer of children's and teenagers' clothing which specializes in streetwear style clothes and accessories. Streetwear is inspired by hip-hop culture and street space; it combines casualness, comfort and uniqueness. Diamante Wear's recipients are young people, so the brand is present in the most popular social media (Facebook, Instagram, Snapchat and Pinterest).
The most important eCommerce challenges:
Preparation of an advanced eCommerce system adjusted to selling abroad, with special consideration for the British market
Creation of integration with warehouse-accounting software Subiekt GT
Integration with Shopgate and creation of a dedicated mobile application Diamante Wear
Adjusting the shop to mobile device users according to the highest standards of Responsive Web Design.
Modern server infrastructure
The Run Colors shop enjoys huge interest among its customers. This means that the servers must handle high website traffic, accumulated in a short time. Therefore, an optimized cloud hosting infrastructure has been prepared and dedicated to handling such a big number of unique users.
The most important benefits stemming from cloud hosting are as follows:
Savings – the costs related to server maintenance are lower than the maintenance costs of one's own sufficiently advanced servers
Wide availability of data and resources in the administrative aspect
Scalability – the possibility of quick resource enhancement without the necessity to reconstruct the entire infrastructure
Safety – a private cloud complying with the requirements of the Polish Inspector General for Personal Data Protection (GIODO) and inaccessible by any unauthorized persons.
eCommerce without borders
From the very beginning, the new eCommerce system for Diamante Wear was designed with cross-border sale in mind, with special consideration for the British market. Customers may choose a Polish or English language version of the shop, freely switching between the two. Moreover, the shop has a "British flag" - a version intended for the British market, in which the prices are stated in GBP.
When in the basket, customers may also choose a country of delivery other than Poland. Diamante successfully sends products i.a. to the USA, Canada, Norway and Iceland. International shipping is carried out in cooperation with UPS courier company, while shipping in Poland takes place via integration with InPost self-service parcel pick-up stations [Polish: Paczkomaty].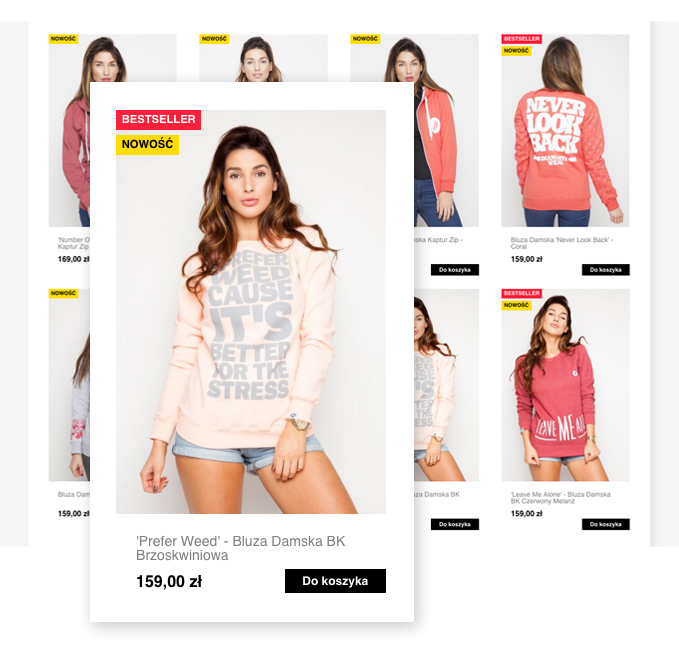 Diamante Wear product list
Integration with warehouse-accounting software Subiekt GT
Selling abroad and in Poland as well as the retail and wholesale shop require efficient customer service, which is a priority and the basis of good business. The new Diamante Wear shop is integrated with warehouse-accounting software Subiekt GT. Smooth integration is ensured by an integrator which automatically collects and distributes selected information between the sales system and ERP software. The scope of the integration includes i.a. data synchronization, systematic update of prices and stocks as well as documentation management.
During the works, a PIP (Product Individual Price) module was also implemented: it allows for individual selection of prices and discounts depending on the target country. The module excludes the necessity for currency conversions, which are unfavorable from the customer's point of view.
Social media and Diamante Wear application
Diamante Wear manufactures streetwear clothing, which is a product intended for young people, so, beside the online shop, it presents and promotes the brand mainly in the social media. To do that, it uses the most popular youth channels such as Snapchat, Facebook, Instagram and Pinterest.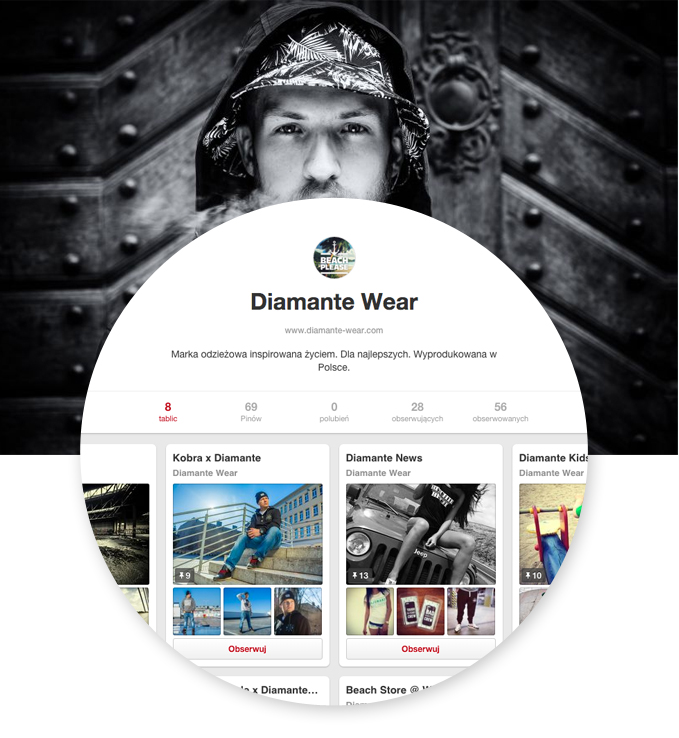 The brand's Pinterest profile
The new eCommerce system was integrated with Shopgate - a tool for creating dedicated mobile applications. Owing to that solution, Diamante Wear customers can download a free-of-charge app allowing them to do shopping.
To attract the young people's attention, Diamante gets involved in pop-up retail actions, which consist in the creation of surprising, unique shops that operate only for a specified period. This tradition has existed in Western countries for several years. In Poland, pop-up stores are a relatively new phenomenon, but they have huge sales potential. Diamante Wear organizes or is a patron of music events, especially during holidays, offering the possibility of buying clothes from its collections.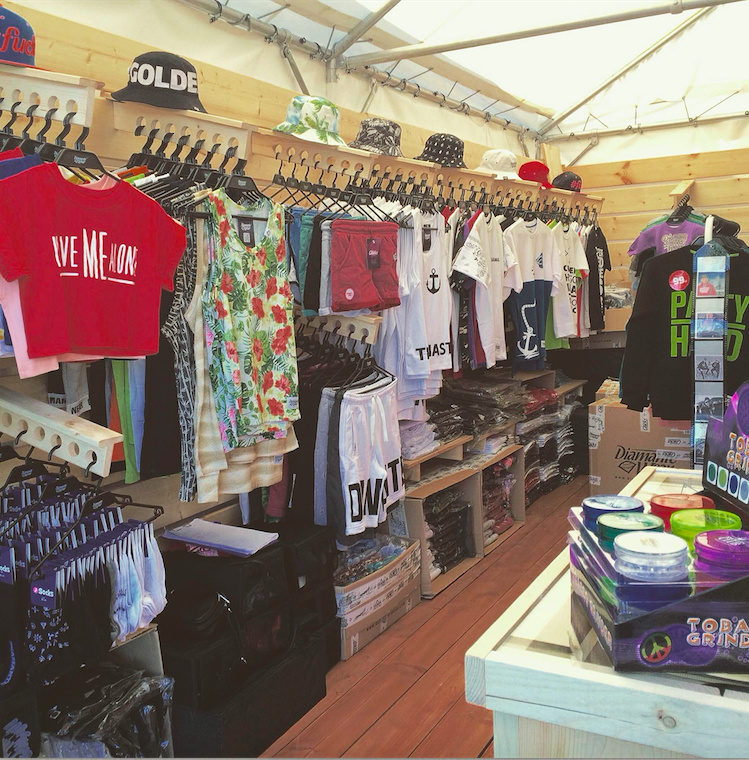 Pop-up store
Loyalty programs and discounts
Diamante Wear has a loyalty program which awards premium points to the most loyal customers. An additional bonus for starters is the discount offered to new customers after they provide their e-mail address. Product reviews are rewarded as well.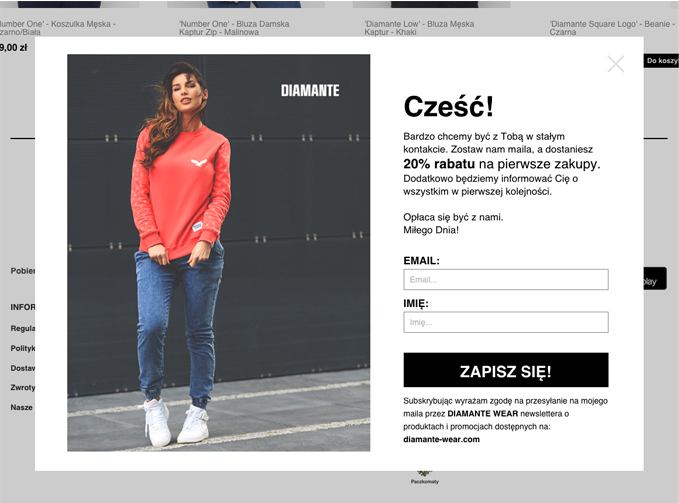 Discount on first purchase
Results of the works
The result of the implementation is a modern, fully mobile website with a range of facilitative functions, which perfectly play its role on the Polish and foreign e-commerce market. The new Diamante Wear shop responds to the young customers' needs and the brand itself makes every effort to be present wherever its customers go.
See next Case ›